Pandemic aside, the IT industry has generally been associated with a high level of stress.
The tech industry moves at an extremely rapid rate where the responsibilities require high levels of employee productivity. These demands make it extremely difficult to unwind from work when you get home. This can be even trickier if you're working from home, with 61% of tech workers saying their stress levels have risen since working remotely.
If you're at home and catch yourself obsessing over an upcoming deadline or a recent client meeting, it's time to make some changes. We've put together 8 tips to help you switch off when you're off the clock and start enjoying your 'you' time.
1. Accept Where You're At
Everyone has limits – we're only human. Accept that the IT world doesn't stop moving once you go home- clients are still around, and your projects are still in progress.
That's fine, however, it's more important to set boundaries and respect the fact that your mental and physical health comes first. It all starts with having 'you' time once you are home. Everything will have to wait until you're back at work.
If you're working from home, we get that leaving your work in the 'office' can be extra challenging. If you have the space, try keeping your work in a separate room and closing the door. Even though there are still lingering projects in the next room over, it's important to set clear boundaries and focus on your downtime.
2. Get Moving
We all know that your body needs to move to stay fit. Sitting at a workstation writing code or testing software can be pretty taxing on your body where you may have low energy, body soreness or poor posture. Who wants any of that?
Try finding fun ways to get your body moving. Whether it's signing up for your local gym, going fishing, joining a golf club, or just going for a walk in your neighbourhood, moving your body keeps your mind focused on something else entirely.
If you're a Sydney local, there are plenty of beautiful places to explore. From bushwalks to waterfalls, the options are endless:
• Wattamolla Falls
• Dharawal National Park
• Wedding Cake Rock
• Hermitage Foreshore Walk
• Three Sisters Walk, Blue Mountains
• Winifred Falls Trail
3. Play Some Games
Whether it be video games, board games, or card games, finding the right one for you means you're not only having fun, but your focus changes to what's in front of you. If you're playing Dungeons and Dragons, you're focusing on your character and living in a different world. If you're playing a card game, you're thinking about your opponent's next move.
Try experimenting and find one that you enjoy!
• Animal Crossing: a Nintendo switch game where you can create your own island paradise!
• Gloomhaven: vanquish monsters with this strategic card play game!
• Star Wars: Rebellion: if you're a Star Wars fan like us, you'll love this 2-4 player board game.
• Munchkin: this is a fun satirical card game with so many different types of decks to choose from!
• Pandemic: a great cooperative board game for those who want to adjust the difficulty to suit their group.
• Catan: a multiplayer board game that anyone can learn to play!
• Magic the Gathering: a tabletop and digital strategy collectible card game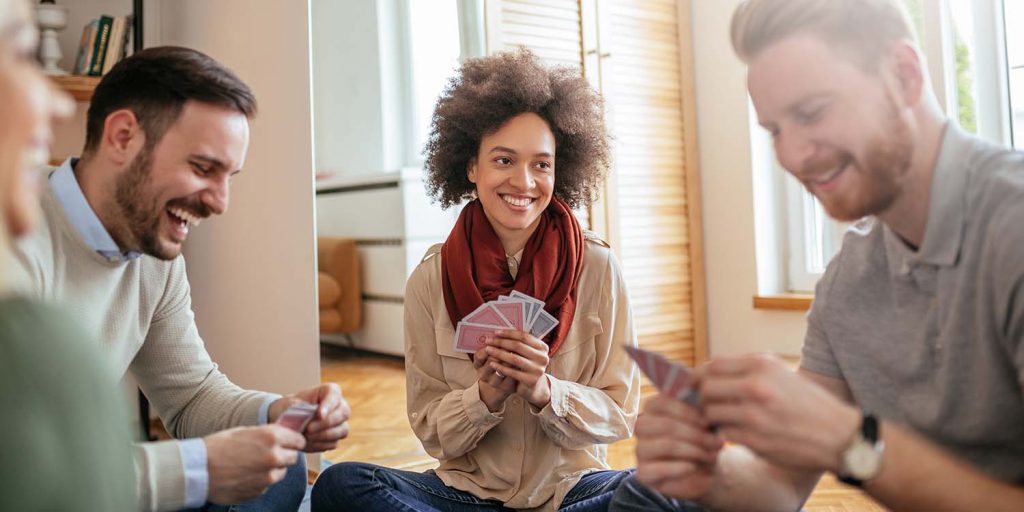 4. Get Creative
Drawing, painting, building stuff, gardening – whatever it is, embrace it. You could take an art class, meet people who enjoy doing similar things or read a book on the subject.
Doing something that requires you to use your hands redirects your focus and gets you in the zone of working on something non-work related. Once you get into it, you may be surprised how time can fly.
Check out some of these Sydney crafty classes, bring a friend along, and see what you can create!
• Art Class Sydney
• Brush and Sip Newtown
• Kintsugi Workshops
• Clay Sydney
• Gardening classes
5. Turn Off the Screens
Studies have shown that Australians spend 17 years of their lifetime on their phones. That's a long time.
As an IT expert, you already spend a good amount of your day looking at screens. This multi-tasking and switching from one thing to the next can take a toll on us as we're not wired to keep going every second of the day (#Technostress!).
As tempting as it may be, try limiting the amount of time you spend on your phone or computer. After all, you're trying to switch off! Having work-related notifications and emails pop up just makes it harder to not think about work.
You can try putting your phone on charge in another room so that you're not tempted to check it.
6. Get Cooking
It may sound simple but cooking a meal for yourself or friends and family is a great way to move your headspace to a different place. You feel great after knowing you've put time and effort into creating something your body needs to feel good. Working away in the kitchen also means you're (hopefully) not on your computer!
Need some inspiration? Here are some yummy recipes you need to try:
• Teriyaki Chicken dinner
• Prawn and Avocado Tacos
• Emerald Dal
• Roasted Cauliflower Pasta
• Tuscan Bean Soup
• Pear, Prosciutto, Arugula and Goat Cheese Pizza
7. Make Your Journal Your Best Friend
Let's be honest- life is pretty fast-paced. It makes us forget to slow down, reflect, and appreciate the small things throughout the day.
Keeping a running journal has shown to be beneficial where it helps improve memory function, anxiety, and much more. If you don't know what to write, don't worry! Just write about how your day was, how you're feeling, and what's on your mind (and try not to write too much about work!).
8. Have a Bedtime Routine
Working past a normal hour is all too common for many of us. Before you know it, it's 12 pm and you're just winding down for the night only to wake up a few hours later. Let's get you into a better night routine so that you can get better sleep and wake up feeling more refreshed for the day. Take a bath, listen to some calming music, and read until you feel yourself getting tired.
Relax and Unwind
Switching off from tech is something we all have to do, whether we work in IT or another industry. The problem is just that we get into such a strong routine of checking emails, responding to clients, and chipping away at our projects but at the end of the day, it's more important to take care of ourselves so that we avoid tech burnout.
Finding ways to switch off is the first step to unwinding from work, then it's all about maintaining that healthy routine that will help you work better, not longer.