When it comes to the IT interview process, preparation is the key to success. If you're an employer, you've got to ask the right questions to find the right answers. On the other hand, if you're a job seeker who's just secured an IT interview, you need to know how you'll respond and promote yourself.
Whether you're an employer or a job seeker, we've come up with some important IT interview questions that will help your interview run smoothly.
What motivates you in a job?
What it's really asking:What drives a candidate to succeed? Does their motivation fit with the role?
A good answer: A "good" answer really depends on what the role is. If an employer is hiring for an IT Project Manager role, the good answer could be "leading a team to success", because that's essential in that particular role. Other examples of motivators could be learning new things, meeting deadlines/targets/goals, providing mentorship to other engineers, or something else.
Tip: If you're an employer, take a moment and recognise what aspects of the role could motivate a candidate. If you're a job seeker, take some time to reflect (prior to the interview!) and write down what motivates you. List them in order of importance if possible.
Tell me about your IT experience.
What it's really asking: How much experience does a candidate have? Does this experience prepare them for the role they're applying for? With IT being such a specialised industry, there's a good chance they have experience working in the field (unless they're applying for a graduate role).
A good answer: A good answer will have only necessary details, not a whole life story. Bonus points if a job seeker can quantify their experiences to add proven value.
Tip: If a candidate can end with a goal statement or long-term professional objective, that will give the employer some piece of mind knowing that the job is not just a 'steppingstone'.
How do you stay on top of new technology and trends?
What it's really asking: We all know how fast the tech industry moves, so if a candidate to stays informed on up-and-coming news and trends, there's a good chance they know where their industry is heading. This question is a great way to gauge how "current" a candidate is in their field.
A good answer: A candidate's answer can offer up a few ways that they stay in the know, but only ones that are important to the candidate. This may include talking to friends, joining IT industry events, reading, subscribing to industry news, networking, observing the competition, or however, else they choose to expand their knowledge.
Tip: An employer will want to know what type of trends are up-and-coming. If a candidate can give a few examples and provide some insight as to why it's worth taking note of, that's a bonus.
Why do you want to work in IT?
What it's really asking: Why is a job seeker passionate about IT? What aspects of IT are they genuinely interested in? Do they have a good understanding of what the role entails? Is the role simply a stepping-stone into the industry? This question is a good opportunity to see if the candidate is aligned with what an employer is searching for.
A good answer: An IT expert may like working in IT because of the problem-solving aspects, helping clients improve the way they work, creating solutions, or working in an ever-changing industry that enables them to learn new skills and programs. This can give an employer an idea of how eager a candidate is to progress in their career.
Tip: The salary is always important but having this as an answer can give off the wrong impression, making it seem like the job seeker is applying for the wrong reasons.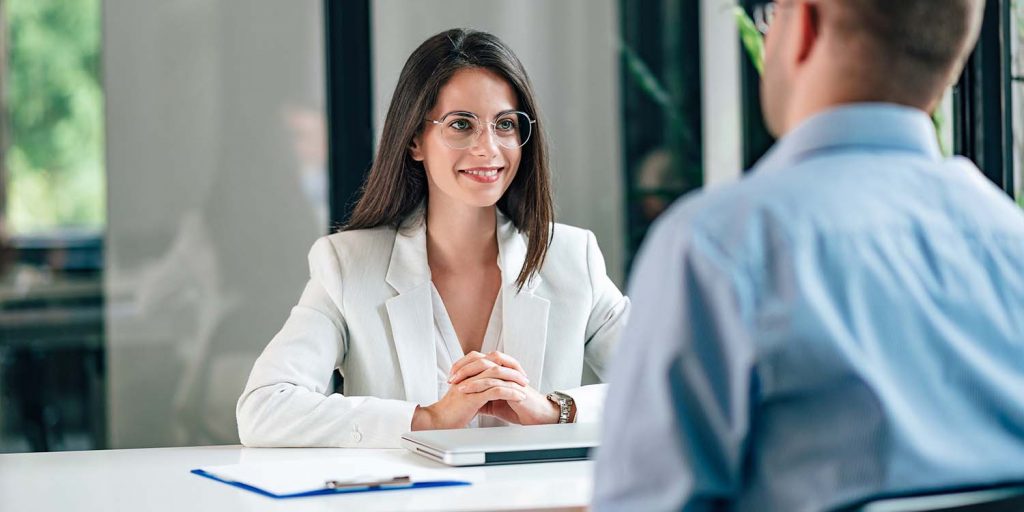 Now it's time to jump into the more technical and computing skills questions.
If you're an employer, asking open-ended, scenario-based questions will give you a better idea of how familiar and comfortable a candidate is with a particular software that is critical to performing the role successfully.
If you're a job seeker, this is a time to "show off" your technical skillset yet maintain honesty with how experienced you are in a particular area.
Let's start with a few questions…
Tell us about a time you've reviewed a colleague's code and how you've communicated the feedback.
What it's really asking: How strong is a candidate's ability to communicate? Are they comfortable and confident with providing not just any feedback, but constructive feedback? Whether it's written or verbal, strong communication skills are key to success.
A good answer: A good answer will set the scene with enough information, provide actions a candidate took, and describe how the results were positive.
Tip: Be clear with both how the question is asked, and how the question is answered.
What do you do when an application stops working?
What it's really asking: How strong are a candidate's problem-solving skills? As much as we would like to think we have full control over our technology, things just stop working from time to time. What's important to recognise is how does an IT candidate react and resolve the issue?
A good answer: Walking an employer through a step-by-step problem-solving process may seem a bit silly, but it does show an employer that a candidate is capable of managing a situation when things don't go exactly as planned.
A good answer can look like this: "First, I'll open up a Task Manager Window and force-quit the application. Next, I'll run a scan for any potential viruses. Then, I'll update the operating system…".
Tip: This question is where a candidate will want to provide a bit more detail. The answer should include a problem, action taken, and a positive result.
At Needus, we firmly believe that employers should limit any supplementary onboarding testing at all costs. Why, you ask?
We all know that IT talent is in short supply yet high demand. We also know that when applying for a role, job seekers apply for multiple roles at once (most of the time).
If an employer is interviewing a potential candidate, and then asks them to complete further testing, such as a situational judgement test or a psychometric test, a candidate will decline and go with another company that doesn't make them jump through as many hoops.
When this happens, the employer misses out on excellent tech talent that was right in front of them.
However, in the interview, employers can and should ask a wide range of questions that can give them enough information to be able to make their hiring decision. If you're looking for more guidance, our Employer Resources are here to help.
By now you've probably seen that there's a lot to consider when it comes to IT interviews. Whether you're an employer drafting questions to ask your candidate or you're a job seeker who's looking to progress in their career, the trick is to prepare, prepare, prepare.
With over 10+ years of IT Recruitment and Consultancy experience, we know what it takes to carry out successful hiring and job search processes. We pride ourselves in souring the best IT talent for our clients and the best fit for our job seekers.
Talk to us today and let us do all of the hard work for you.